DENNIS TOLSMA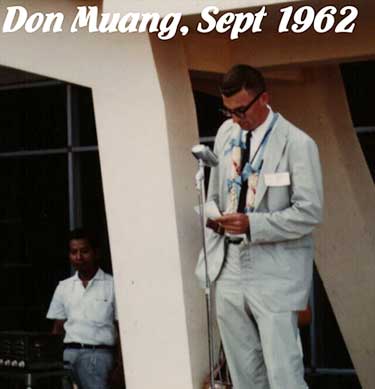 It was great to see Sumner Sharpe's contribution from Thai 1. I hope some of our Thailand 2 group will check in here and add their thoughts. Those last seen at the 25th anniversary reunion in DC, what has become of you!
Two anecdotes: We arrived in 1962, and I did not return to Thailand for 25 years. I returned for a project with Mahidol School of Public Health, but I tried to revisit Thammasart University (where I was one of Dr. Chalao's "radicals" in creating a then-nouveau TESL-based English curriculum); alas, she died a tragic early death, and I found not a trace that I had ever passed that way. (Try that for an ego boost some time.) There was little trace of Bangkok as I knew it, either--Klongs filled in, Don Muang (once WAY out in the rice paddies) now well inside the city limits, dirty air like Beijing, traffic like Mexico City, 4-star hotels offering body massage, everything but Wat Pra Keo torn down, and I never did relocate my soi. What was not changed much? The same cheerful and likeable people. The same admirable young families risking life on a motorbike, husband in front, wife behind, kid snugged in between, just trying to make it. The same unruly entrepreneurism spilling out of storefronts into every teeming side street. Same Singha beer. The same unpleasant political scheming. And, of course, the same King!
Anecdote 2: I never met King Bumiphol as a PCV but I went to Thailand the second time with Surgeon General Koop, and that got me invited to an audience. I was trying to establish a violence prevention program at the time, and so I asked him how Buddhism looked on suicide. He never hesitated a second, simply saying "Your life is not your own; how then could you take it?" Sure sounded like a zen master's koan to me.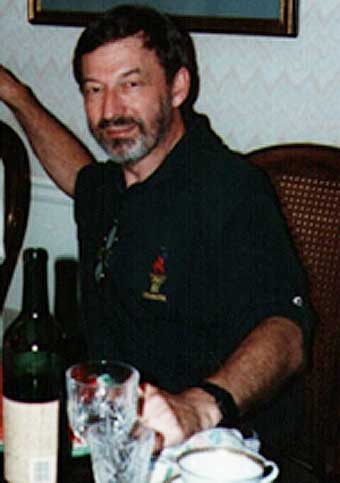 I have always understood that my time in Thailand did more for me than I could ever do for her. After my return, I got an MPH at Columbia, and I spent 30 years at the Centers for Disease Control and Prevention (CDC), part of the time as Director of one of the Centers (Health Promotion and Education) and later as Associate Director. I found satisfying opportunities to start some international health promotion initiatives, and was elected President of the International Union for Health Promotion and Education (1988-91). (Bad luck, headquarters is in Paris). I currently head up quality improvement, and have started a research program, in Kaiser Permanente's Georgia Region. This year, we attained the nations highest childhood immunization rate, one of my long-standing public health aims.
So, here's an idea, Thailand 2. How about a 40th Reunion, say in Ann Arbor, Summer 02? The Pretzel Bell burned down, but we surely could find someplace equally sleazy for a beer, false recovered memories, and just plain lies. In the meantime, I hope others will contribute news and reminiscences to this site.
(Photos Dennis forwarded are below)
E-mail address: Dennis Tolsma