PETER AIKEN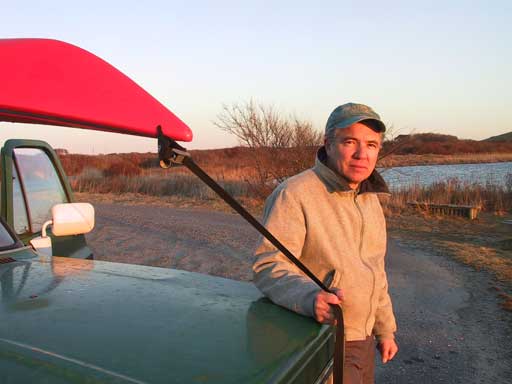 I write and shoot for a lot of New England newspapers, including The Boston Globe and The Providence Journal. I've been in ISLANDS Magazine and a lot of inflights. I'll send you a piece I did on anotherPCV - Paul Theroux. Lately it's been Germany, investigating the master race, Switzerland, Green River rafting in Utah, Morocco etc.

Following is the work Peter sent.
PADDLING IN THE CHORD OF THE BAY
by Peter Aiken

I just wanted to push my kayak off the sand and into the harbor. The sea was a great equalizer and, at this moment, I felt the scales of achievement were out of whack. I was about to paddle for the first time with Paul Theroux, the globe-trotting author of forty books. My own writing had made it into three books, but one was a guidebook, and they don't count.

Theroux wasn't just the author of novels like THE MOSQUITO COAST, he also wrote non-fiction travel books such as THE GREAT RAILWAY BAZAAR, a worldwide bestseller. I was a travel writer too, and if the work hadn't brought me fortune, it had hosted me on trips all over the world. But Theroux was friends with the greats of modern travel writing: Bruce Chatwin, Jonathan Raban, Lawrence Millman. What could he tell me of them and of places I hadn't been?

First we had to get off Jetties Beach. Captain Tom McGlinn was doing a video interview of the writer for NTV. Questions droned on: Are you optimistic or pessimistic about the world after all your travel? Your impression of Nantucket? What's so special about trains?

I had met Paul in 1992 when he came to Nantucket to talk on his kayaking travel book, THE HAPPY ISLES OF OCEANIA. I tried to get him out to sea then in one of my kayaks but he took a rain check. We exchanged addresses and I sent him my review of his book in The Inquirer & Mirror. He liked the review and promised to kayak with me next time. Next time was now.

A motor boat passed and waves lapped loudly at Theroux's feet. The man often labeled a travelling curmudgeon by critics, was talkative and friendly and accomodating. Sheila, his wife, was working in Hawaii and he must have been holed up writing over on Cape Cod for days. He seemed eager for human contact and relished the fresh air blowing over Nantucket. The book he would be flogging that evening, in fact, was called FRESH AIR FIEND.

"Travel is not like a holiday," he said, in accents influenced by years of living in England. "A holiday is a rest after travel. I want to do a book on Africa, starting from the south and going up."

We put on life vests and lifted our paddles. Theroux was neatly tanned and had Polynesian tattoos on his ankle and hand. I had the broken tan of an island house painter; brown neck and dark brown arms to where the t-shirt outline began. And, although he was older than me at 59, my mid-section looked like it had consumed more beer than his. The man was in shape but I wanted to see how well he kayaked.

We went east through the cut in the Jetties and headed across the Chord of the Bay. It was a glorious August day and the sea outside the harbor was as calm as a sheltered pond. I was in my Sea Lion, a 16 foot ocean kayak, and Paul was in my Feathercraft, a shorter collapsible kayak. Collapsible meant that it could be taken apart and fitted into a large backpack for transport. Neither boats had rudders, but the Feathercraft came with a skeg, a fixed-position rudder, which we hadn't put on. So Theroux was at a disadvantage - his boat was lighter and, with no skeg, harder to track in currents and high seas.

We could talk in the morning calm and caught up on recent journeys. His tales of taking his own collapsible kayak through fifty-odd islands of the South Pacific rang true to me. I had previously taught school in Western Samoa. I spoke Samoan. I had drunk lip-numbing kava root juice with high chiefs of Samoa and had shared massive mounds of freshly opened canned corned beef. Paul and I could joke about the occasional bovine eyeball found in those cans.

We found more connections. We were Catholic boys from the streets of Greater Boston, he in Medford, me on the opposite bank of the Mystic River in Arlington. Medford was an exotic land for Arlingtonians because there were tales of mafiosi living in the strangely-shuttered double-deckers of the town.

Theroux went to UMass, Amherst, a few years before I showed up to study there. Both of us joined the Peace Corps after graduation, although I had also jammed in a year of graduate studies in California. Theroux went to Malawi in Africa, I went on to Thailand after my time in Samoa. I did four years of tropical teaching, sans air-conditioning, as alternative service to our ongoing armed extravaganza in Vietnam. I had changed by the time I returned home, and never finished graduate school. Theroux stayed overseas, first in Africa, then teaching in Singapore, and finally starting a family in England.

And his connection to this nautical corner of Massachusetts was similar to mine. Cape Cod was where his large family of nine escaped Medford in the summers of his youth. I escaped the summer doldrums of Boston by staying with an aunt who had a home in West Harwich, Cape Cod was paradise compared to the city. One could go barefoot all day. You could swim in The Herring River or the sea. And girls lounged in bathing suits all day long, on the beach, around their houses, on the dock of the river.

Theroux bought a house on the Cape with his first significant income. Three of his books had become movies - Saint Jack, Half Moon Street, Mosquito Coast - and he had made enough to be able to summer again on Cape Cod while continuing to work in England. I moved to Nantucket because, in the seventies, it was a purer vision of my childhood Cape Cod. And it was similar to my time in Samoa - you would live in the rural quiet of Savai'i Island with an occasional ferry trip to the unrestrained dance halls of Apia, the capital. On the Grey Lady, you would endure the desolation of a'Sconset winter with odd trips to the Lower East Side of Manhattan or week-long binges at Rio de Janeiro's Carnaval. My middle age was simply repeating cycles of my youth in a ferris wheel of time.

Paul's connection to Nantucket had become secure in 1989 by the bravado of a voyage he described in SUNRISE WITH SEAMONSTERS. He had paddled a Klepper folding kayak to this island from the mainland, leaving from Falmouth, stopping a night to illegally camp on the Vineyard, and continuing on to Nantucket harbor. It was a trip I would not have attempted alone. Anyone who knows the currents and shoals and winds between the islands knows this was no paddle by a weekend dilettante. "Nothing can compare," he writes, "in unearthly intensity with the experience of being alone in a small boat with 360 degrees of watery horizon around you."

Theroux and I continued paddling perpendicular to Coatue and saw only seawrack and seagulls. During the whole day's paddle, in fact, we would see only one vehicle pass down the beach and one fishing vessel at sea. A mid-summer day and so quiet and peaceful in this triangle north of the island. Where were the masses of Main Street?

"You feeling strong?" he said "Let's head for Great Point Light, and if we feel we're making good time we can stop there. If not, we'll turn back to Coatue."

I was up for it but hadn't thought we would be going so far. I should have known better. If we got into trouble at sea, we could be cutting it close for his lecture but the man enjoyed a bit of risk. His paddle stroke was clean and powerful, better than my own which was absentminded. Instead of using my whole body for torque with each stroke, I pulled with my forearms. I was lazy and my mind wandered.

As we pushed away from land, the chop picked up a bit but didn't hinder us. We kept the bright white pillar of the lighthouse on the horizon as our guide.

We talked about what most interested us: love of books, movies to see, family, growing up, traveling around. There was no dearth of subject matter. If I tired of talking, I would drop back or pull ahead and let the sound of plopping paddles take over. Theroux could have talked all the way. He could write a small book on the flotsam and jetsam that passed through his lips on way to Great Point.

I knew stories of his younger days from his novels so I told him some of mine.

"I had a bit of "The Great Santini" childhood," I said."My father was a strange mix of an ex-Marine and an artist so my younger brother and I had times of training and times of total freedom. The first drill I remember him giving us was how to stick the bayonet in and twist so the intestines of the enemy came out as you pulled the blade out."

I smiled as I told the story but it was a rueful memory. That marine, dead thirty years now, would have rejoiced in this day with the sea breeze and the sun and the bow of the red kayak pushing through knots of dark seaweed. And this unusual companion. As an artist, my father knew one couldn't abide with the run-of-the-mill.

"The book I'm reading now," I said, "you wrote the introduction - THE SADDEST PLEASURE. Moritz Thomse'Ôs an excellent writer. He still alive?"

"No," said Theroux, "he just keeled over one day in Guayaquil. He had emphysema, cholera, pneumonia. We corresponded for years. I think he wrote the best book about the Peace Corps."

I had picked up the book in a second hand store because of its exotic cover and the publisher's attempt to have it sell by placing Paul Theroux's name under the author's. Thomsen was a skillful writer who had been a Peace Corps volunteer in Ecuador. And, as in the case of Theroux and I, that service was a springboard for more travel and writing about it.

Thomsen had taken his title from a line from Theroux's novel PICTURE PALACE, in which a character asks, "Which Frenchman said, "Travel is the saddest of the pleasures?"

Thomsen's book about boating down the Amazon while he's old and sick is an existential tale of going from Rio to beyond Manaus while contemplating, at the same time, his approaching voyage between living and dying. It's as if Samuel Beckett wrote a travel book on Provence between WAITING FOR GODOT and KRAPP'S LAST TAPE.

I changed the topic from books to movies and asked about a favorite of mine.

"How about a movie with great paddling scenes - BLACKROBE?"

"My son called it DANCING WITH JESUITS," Theroux said, punning on Costner's DANCING WITH WOLVES.

"It's not that bad," I said. "The missionaries don't come out good guys. But canoes on the river in Quebec in fall with Indian guides - see it just for that."

"One thing I've enjoyed lately is The Sopranos on HBO," he said. "Have you seen it?"

"A couple times, great acting," I said but I thought: how could he not like The Sopranos when he's from Medford? Wise guys might have lived on his same street. People got bumped off in Medford and were found later in Boston Harbor wearing concrete boots. Driving through the town, you could smell fried calamari and simmering marinara sauce wafting from people's houses. You could travel to southern Europe by driving to Medford in the 50s.

When Theroux describes the east coast of Sicily in THE PILLARS OF HERCULES, he writes: "Then, Cannizaro, Lentini, Paterno: almost every town in Sicily reminded me of the names of my high school friends, and a Sicilian railway timetable looked like a list of the Medford High class of '59."

Two low buildings at the end of Great Point came into view and the sun flashed off a fishing boat trolling the rough current of Point Rip at land's end. Seagulls followed the boat, diving for fish. The beach was empty. What 4-wheel drive traffic there was remained on the east side of the peninsula. We pulled up on the steep stony beach and stretched.

Theroux studied his watch and said, "We have about 15 mintes for a bite and then we have to head back."

We had paddled seven miles and had seven to return. I dove into the sea to cool off while he took out smoked turkey with provolone sandwiches and chocolate chip cookies from Something Natural. I threw in a bag of fresh cherries, preserved mangoes, and warm tea with too much lemon in it. We sat and ate with gusto, looking back for faint traces of a town landscape disappearing in sea haze.

Two Nantucket sailors in the 1830s, back from different whaling voyages, could have rowed to this same beach and talked about similar topics over salted mackeral and cranberry muffins. Although Theroux and I never had to worry about cannibalism, there were other topics equally weird and fascinating.

What, we wondered, were the differences between Japanese and American women? The Sandwich Islands were great places to visit but would anyone want to live there year round? On the old Bugis Street, in Singapore, the only way to tell real women from men dressing as women was to find the Adam's Apple. If you didn't know this, chances were you would be tricked. Theroux recalled running to an inebriated friend as he got into a taxi there with a young companion, yelling, "Charlie, it's a man!"

And there was a bar in Laos called The White Rose. Would anyone on Nantucket in the windy Atlantic believe what went on there by evening's lantern glow? And what of culture shock. Was it harder for nineteenth-century men coming from a Quaker-dominated island or for us from the tv suburbs of America? Whalers had to be the toughest of the tough to do the work they did. And they sailed with Indians and African-Americans so they were not strangers to varied backgrounds. But they knew as well as we did that the men of the South Sea islands were intimidating hand-to-hand warriors and, in the whalers' day, may have been still dining on the defeated.

We cleaned up our rest spot and Theroux pushed off to sea. The wind and the waves had picked up in just that short time as we ate. The waves traversed our beach now at a strong diagonal and, because the drop-off was steep, it had the embarrassing effect of pushing me back to the sand several times. I looked like a student in Kayaking 101. Theroux waited patiently at sea, gazing elsewhere.

When I finally cleared the beach and felt the heavier chop around us, I looked for my bilge pump. It wasn't secured on the deck. I had stored it in the rear hold, where I couldn't reach it in an emergency.

I told Theroux I felt like a character in the Jack London story, "To Build A Fire," who makes one small mistake that kills him.

"The match in the snow," said Theroux.

We wouldn't die at sea because the sea was warm but the mistake was enough to put an edge on the enterprise that wasn't there on the way out. It's just so awkward to be swimming around a kayak full of water.

The wind blew at our shoulders and we had to paddle harder at an angle into the waves. We talked less and stroked methodically to stay on course and not get broadsided by a freak wave. Even still, the current pushed us closer to the beach on Coatue so it meant a longer pull toward home.

We were both very tired men pushing back through the cut in the Jetties. Theroux's distance eyesight hadn't been that good - "Can you see town yet?" he had said a couple times, but his stroke was strong and accurate. He had been a master at guiding the lightweight skegless kayak into the wind. And once more a small craft had saved him, in his career as writer, from a life sentence of solitary confinement.

So that's part of what remains of this day for me. But what remained of it for Paul Theroux? Maybe some day I would read of a character in one of his stories named Stephen Spellright or Terry Madaket, and that guy, floundering in a kayak offshore, I would recognize. It would be me.